Randam Luck
Conspiracy of Silence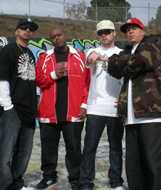 Dola, Stadi, J Buss (Exec. Producer), Lucky



Randam Luck is a crew out of San Diego that's been rocking the local scene for a minute now. They recently got picked up by Babygrande Records and their album "Conspiracy Of Silence" featuring guest appearances by Vinnie Paz, Outerspace, Ill Bill, Kool G Rap, Sabac Red is now out in stores. If you have a taste for raw, underground hip hop, support it. I'm personally glad to see labels still picking up hip hop artists who don't do the dumbed-down rap steeze but instead give you real lyrics about what's going down as they see it. For me this is definitely an enjoyable album to listen to after these cats blessed me with the project to work on, and being that Network is one of those flicks I watch every 2 years or so, these cats had me open at the intro (copp the album for further details). Recently these cats took time out of their schedules to answer a few questions and it went like this:

Wassup Fellas, introduce yourselves; who is Randam Luck and when did you guys come together as a group? How did you guys meet?

Stadi - Randam Luck consists of Randola, Lucky and Stadi Majadi...we been a group for like 8 years now..

Dola - Yo I known Stadi for years cause he used to do music with my cousin back in the day..

Lucky - I met Dola in 2000 on some family shit and found out he was doing music so we just kinda clicked right off the bat...then when we started the group he had told me about Stadi so we just hit'em up and told him to come to the studio and it just kinda went from there...

You guys have been putting it down for a minute now, who have you guys collab'd with so far, on track and on stage?

Stadi - Yo on the album we got Vinnie Paz, Ill Bill, Sabac Red, Kool G Rap and OuterSpace...on stage we've opened for all kinds of people..KRS-1, Evidence, Jayo Felony and the list goes on..

With regards to production, who's doing the beats?

Dola - On the beats we worked with Mister KA, Troy K, Anno Domini, and Todd Bishop..these are some up & coming producers..you'll be hearing more from them soon. On the cuts we got DJ Kutfather who is a San Diego vet who has done a lot of big things himself...he's worked with all kinds of cats like Swollen Members, Buc Fifty, and a bunch more and also we got one track with the homie DJ Demon, another SD vet who's doing big things out here..
How do you guys decide what tracks are going to be laced?

Lucky - We just hit up some producers and have them send us some heat and we just kinda pick the hottest of the bunch...once we hear a beat we usually know right away if we wanna get down on it...

Talk a little bit about Conspiracy of Silence, how long has this project been in the making?

Stadi - Damn...it's been a minute...we just been in the studio recording tracks so when we hooked up with Baygrande the album was pretty much done...

Dola- It was a pretty long process but we wanted to make sure we brought the heat on every track so I think it was worth the wait...

What is you guys' personal favorite jam on the album?

Lucky - I really like the Vinnie Paz track..cause that track is just some straight hardcore underground shit...

Stadi - I really can't pick just one..I'm feelin all of them...

Dola - I'll pick my top 3 cause I can't really pick one either..I'd say 1,2 Hit'em, Raw, and Murda..
What projects are in the works for you guys?

Dola - Right now we setting up the tour...lining up shows..we're pretty busy

Stadi - We just promoting right now..trying to push the album...

What's the illest show you guys have done so far?

Lucky - I'd say the show we did at this club called Cane's in SD when we opened for Evidence..the crowd was real live that night....

Where can heads learn more about Randam Luck?

Dola - We all over the place now..but yall can hit us up at www.randamluck.com , www.babygrande.com , www.myspace.com/randamluck

Thanks for letting me work on your album, any shouts and last words?

RLC - No doubt man..thanks for doing the Spotlight on us and for the good work you did mastering the album for us..make sure yall cop the album on 4/29/08 in stores everywhere...also be on the lookout for the new Randam Luck merch store coming soon..we'll be selling shirts, hoodies, hats and all kinds of gear...also want to send a shot out to our boy Jesse Buss, DJ Kutfather, and all the other SD cats who support Randam Luck...Peace